Buy the Book
FULL WATTAGE! A Practical Guide to Living an Engaging and Purposeful Life has won 3 prestigious awards.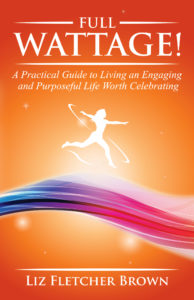 Full Wattage! is a Silver Medal Winner in the Readers' Favorite International Book Award 2013, A finalist in the USA Best Book Award 2013, and a finalist in the Eric Hoffer Book Award 2013.
"Liz has written a book that helps us all dance through the challenges and difficulties of life and come out looking like the best dancer in the room. This book will uplift and inspire you to higher heights and give you tips and strategies to succeed even in the midst of tough times!"
Dr. Willie Jolley, Hall of Fame Speaker and Best Selling Author of A Setback Is A Setup For A Comeback and An Attitude of Excellence!

Bookstores and Libraries – Contact us or call 410 789 5745 (EST) for distribution details.
Here are more reviews of FullWattage!
So, if you've lost the spark in your career or personal life, or if you are simply feeling bored, restless, burnt out, overwhelmed
or stressed, this book will help you find new meaning and enthusiasm at work and at home.
Full Wattage is filled with practical tools and processes, questionnaires and valuable insights to help you:
Tap into your personal power and brilliance.
Define and design your Life Dance
Discover what makes you come alive, what you love and do best, and what matters most.
Rejuvenate your body, mind and spirit
Infuse all areas of your life with greater purpose and passion
Deal with saboteurs that get in the way of living with Full Wattage.
The book includes access to a companion online guide containing downloadable worksheets,
audio processes and more.
Are you ready to feel alive with a sense of purpose, to boldly express your gifts and talents, and to live in alignment with what matters most to you? Are you ready to live with Full Wattage?
Then this book is for you…. Besides, why settle for anything less than being fully, dynamically, enthusiastically alive?
Full Wattage makes a great gift too! So do think about buying a copy for anyone in your life who is searching for greater meaning and purpose. It's a gift that will last a lifetime.